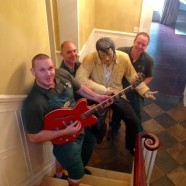 Elvis Has Truly Left the Building
Recently we had a great local job where part of the removal was to move a great looking statue of the king of rock and roll, the one and only Elvis Presley.
It was a great day and a lot of fun for all the guys. It`s what makes being part of a removal company so worthwhile.
Next we need to find a job where Marilyn Monroe who needs to be relocated.