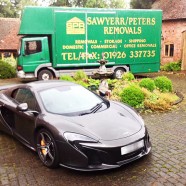 Chadwick End Removals Near Solihull
Between Warwick and Solihull is the village of Chadwick End and it was moving day. In the driveway there was a lovely car to greet us. Would love a spin around the countryside in this car!
Wee fact: The word Chadwick means 'farm near a spring' - this is relevant as it`s part of Chadwick End fall.