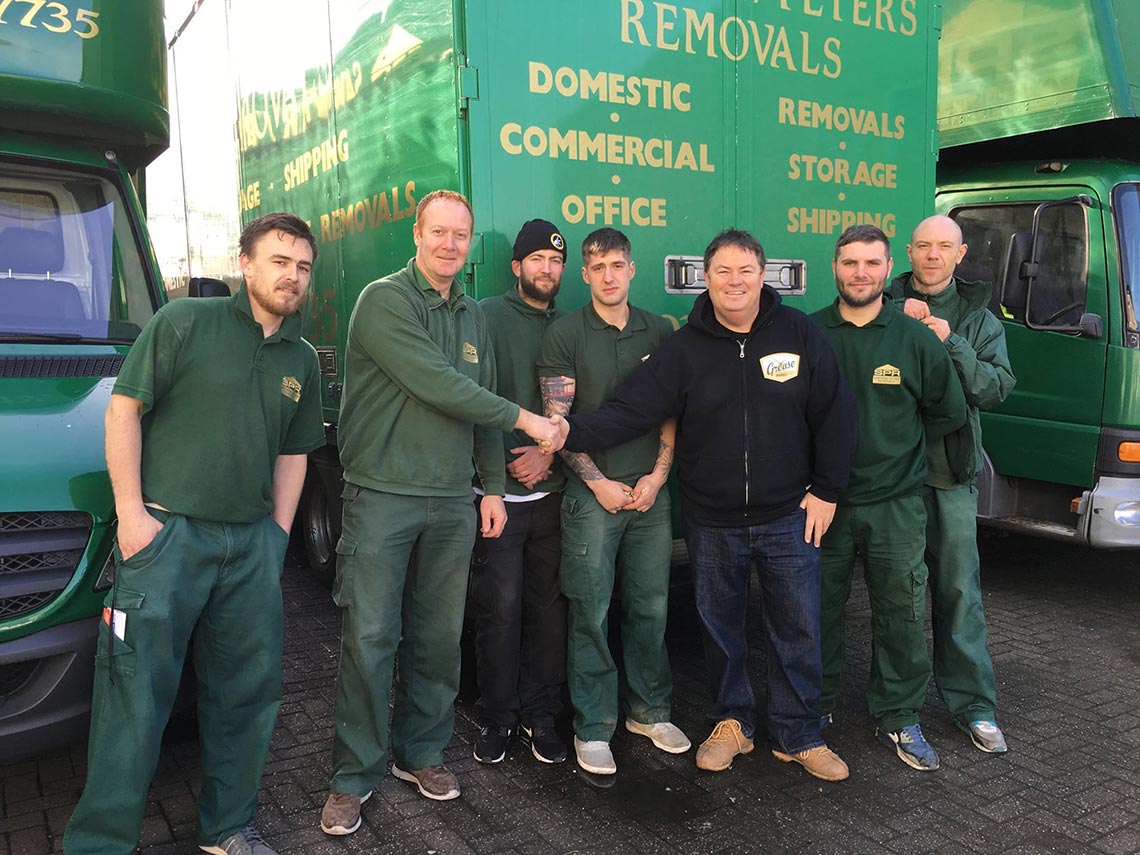 "I just wanted to say a massive thank-you to Aiden & Aiden who moved us.
They were both really lovely, friendly and professional.
I was worried about my new carpets because of the rain but they made sure they were covered and even took their shoes off.
They are a credit to the business."
---
"Absolutely amazing team – professional, swift, friendly, courteous and genuine. We've used Sawyerr/Peters three times now and would recommend them to everyone. A brilliant team!"
Hayley Dunlop – Google Review
---
"Leamington Spa to Sheffield.
Couldn't be more pleased with the professional, complete and friendly service we received from the removal team.
100% satisfied and would definitely recommend this company to anyone searching through removal company options."
Mick Ruler – Google Review
---
"We've used Sawyer Peters for several moves over the years and wouldn't consider anyone else. Jon always takes care of us!"
Nigel Carter – Google Review
---
"Jon and his team were fantastic. A real pleasure to have around and they made the whole moving process enjoyable! I cannot fault them – nothing was too much trouble and they took great care when packing and moving furniture around. No damage at either end. Overall, a first class service and I would definitely recommend them."
Clare Harding – Google Review
---
"This company were brilliant from start to finish and if you are looking for a team that are friendly, professional and hard working then 100% recommend this company. They helped me move at short notice and were very competitive on price. Arrived on time, took great care of everything and very helpful and cheerful at all times. Thanks so much and would definitely use you again!"
Donna Cons – Google Review
---
"They were so helpful. They were fully booked but took the time of offer other options. Which worked out. Thank you."
Manuel Carvalho – Google Review
---
"John and his team were superb! I highly recommend using the packing service if you can: everything was packed with real care and so efficiently. Ours was a long-distance move, Leamington Spa to Sussex, I couldn't have asked for a better service and also, in our view, they are excellent value for money. Plus they are super people, really friendly and professional. I have no hesitation in recommending SawyerrPeters for your move…"
Jo Leppard – Google Review
---
"Can highly recommended Sawyerr Peters! We have moved quite a few times and SP are by far the best company we have ever used. John and his team are excellent: reliable, extremely hard working, professional but also easy to work with. They make what can potentially be a stressful experience into a relaxed and easy process. Thank you!!"
Corinne Black- Google Review
---

"Fantastic -John and his team were a pleasure to deal with I highly recommend them. I like the fact that there are small local company to deal with very friendly and easy to chat to.
I'm a local GP and I hear horror stories about removal companies from my patients who either join the surgery and move away- it's a really stressful thing to do.
Sawyer Peters made this process really efficient with minimal hassle and stress free. They have special covers for your sofas televisions, picture frames and remove your whole wardrobe contents with hangers and move chest of drawers minimising the need for packing.
They'll sell you packing boxes and will buy back off at end for 50% of the price They protected all our carpets As well as dismantling beds and reassembling on the other side. No damage to both houses from their removal.
The small team of six people were really friendly professional and humble which really helped with a very stressful wife. I did shop around and was quoted cheaper but – Sometimes going cheap is a false economy I hope you don't have to move soon but if you do I highly recommend John and his team.
Raj Kanwar"
---
"Fantastic service, the guys worked really hard and were very careful and considerate. Very highly recommended and great value for money compared to quite a few other companies. Thank you so much x
Lisa Hudman"
---
"Great staff always friendly and helpful and a great service
Sid Flavell" – Google Review
---
"Dear Jenny,
Please pass my thanks to Aidan and Aidan for their sterling work last Tuesday. They were both very efficient, and a real pleasure to work with, and to have in the house packing my belongings. They did a really great job.
Yours sincerely,
Bruce"
---
"Hi Jenny
Just to say thanks very much to John and the team on Friday. They made a stressful process as easy as it could be! Thanks for your help with all the emails too.
Best wishes, A"
---
"I just wanted to thank you and Jon & team for sorting out such a smooth pick up of furniture and onward move to St Albans and Tunbridge Wells last month."
---
"A short note to say your team did a really first class job yesterday . The young chap in the team saved the day in getting the long table out .
Many thanks, S"
---
"Can I just take this opportunity to say that the team were excellent, very polite and with first class customer service. When you get all of that at a highly competitive prices you can't go wrong really. Thanks once again for moving us.
Best Regards, C"
---
"Thank you. Aidan and Aidan were both excellent; Professional, expert packers. I look forward to contacting you to book your services again next summer. "
---
"Just to let you know that James and his mate did a great job on Monday/Tuesday, and I am now permanently installed in Otley.
I was very pleased with your service and will be recommending SPR to all my friends in Warwickshire who may be moving in the future.
Many thanks,"
RJ
---
"This email is by way of a belated thank you for the way you and your staff carried out our move last week.
We have rarely come across a more friendly hard working bunch of individuals than those who came to our house to pack and load on the Monday, and then deliver to our Devon address and store just after 8.00am the following day From our point of view the move couldn't have gone more smoothly, and we are extremely grateful to you all for that, including Jenny in the office.
Wishing you continued success in the future.
Best wishes,"
R and C
---
"Hi Jenny,
The team were brilliant on Friday.
Please pass on our special thanks as they were all a really pleasant happy team.
Thanks again,"
S
---
"Your team of guys have been brilliant for the last 2 days.
They were personable, efficient, and so helpful and they made our move stress free."
---
"My husband and I were very impressed with the company, from phoning to inquire about getting a quote from them to the lads moving us into our new home. They were fast and efficient and very friendly. Outstanding service and we would highly recommend them!"
BW
---
"Hello
We are writing to let you know that we were absolutely delighted with the service we were provided with by your removal team. They were efficient, sensitive and good teamwork showed through on both days. Lyndon led the team with authority and enabled them all to do a great job over the two days.
Thank you so much."
---
"Fantastic company to work with. The lads were fast and efficient getting us moved into our new house and everyone at the company is very friendly."
---
"We would like to say a big 'thank you' to all at Sawyerr/Peters. What a great team of men, hard working, polite and helpful, and went the extra mile to do anything we asked. We can't thank you all enough for making the move go so smoothly."
B Wise
---
A thank you we have received today 🙂
"I just wanted to drop you a line to say thank you so much to the wonderful team of removal men who did my move from Leamington Spa to Sheffield. I've used Sawyerr Peters several times now, and have always been impressed by the friendly and professional service you offer. I really felt both yesterday and today the team were exceptional. They worked really hard, were so careful with my furniture and yet managed to be super friendly and efficient too! Moving can be stressful, and I am sad to be leaving Leamington behind but they made it it run as smoothly as possible. A very positive experience.
Please do pass on my thanks to all three of them.
With very best wishes
"
L
---
"Excellent communication from Jenny. Brilliant job by the lads on move day. They were so quick I fought to keep up with them. Really helpful, hard working and with a sense of humour which really helps on a stressful day. Thanks to your lads, Jenny and yourself Ginge. Highly recommend for a smooth move day."
SJ
---
"The move was very smooth (in fact the piano was already loaded and ready to go when I got there!). Thanks again to the guys who did a great job – the lady they collected from also complimented me for finding them and them having done such a good job in a friendly, professional way!
I'll definitely be in touch again as/when we have further removal needs."
JR
---
"Dear All
Thank you so much for your service before, during and after the move in February.
Jenny on the end of the phone and the fab team with John that turned up on the day were efficient, polite and a pleasure to deal with.
We are now happily unpacking boxes and enjoying our new country home. Our new neighbours noted how you all worked like a well oiled machine – the one fuelled by caffeine and biscuits! I think notes of the number on the van have been taken in case they ever need removals.
Well we hope we don't need your services again but will gladly recommend you to family and friends."
Mr & Mrs N
---
Dear John & his team
Thank you for making my move to Kenilworth Road so effortless, (although I fear not for you!) and for your exemplary help and kindness in every way.
Best Wishes Mrs B-H
---
"Can I just say what a fantastic service you provided. You have been incredibly patient and accommodating and the guys who moved us were brilliant. Thank you!"
A.B
---
"The boys did an amazing job.
please let John  know that his lads did a very professional job and worked extremely hard."
MM
---
"A big thank you to you and the lads (men) who moved us out today and yesterday. They were brilliant.
They worked tirelessly and had a great sense of humour which helps when you are feeling stressed!"
SJ
---
"Great service on Friday and Paddy and the guys were great!
Thanks for helping with our move."
SS
---
"Many thanks to you and the guys who worked so hard to help us move on Monday.
They're willingness to sort things out for us made moving a lot easier and less stressful.
If only they could have unpacked and put things away for us as well !!!!
Many thanks again to you all for your first class service."
CS
---
"Dear John and Marie,
Please convey our sincere thanks for the excellent professional team who moved us, making it look like a smooth operation for us.
We would recommend you again.
Kind Regards,"
PH
---
"John/Marie,
Just a note of thanks for the smooth and professional service we experienced today; Linden, Wayne and the guys worked tirelessly and made the day as smooth as possible – unlike our Mortgage lender!
I would not hesitate to recommend or use your services again.
All the best,"
FH
---
"Dear Mr Peters
Just a few lines to say thank you for all your help moving my furniture to Nice in the South of France.
A very polite and professional team collected and more importantly delivered and unloaded in Nice on time and with no damage.
I have no hesitation in recommending your company.
Thanks again to all your team."
Mr C Davies
---
"Just a short note to say thank you for such a professional job on Friday. The entire team were polite, and it was great to see such team work coming through.
And thank you for really giving the Benson for Beds chaps a push to get our bed in!
We will be happily recommending you to our friends and family.
Many thanks!"
H.D.
---
"Many thanks for making all of Sarah's moving go so smoothly.  She already feels very happy with her new home. We will have no hesitation in recommending you most strongly to anyone we know that is planning a move.
All the best for Christmas and the New Year to you, the ever helpful Marie and all the crews."
MD
---
"Just wanted to thank you for all your help with the boxes when I returned them to you earlier today. My husband and I would also like to thank all of the guys (Dan and the team) for all of their help and professionalism in helping us move a few weeks back.
We were more than happy with the service we have received from start to finish and wouldn't hesitate recommending Sawyerr Peters to our family and friends."
---
"Let me thank you and your team for for the way you helped us move. Especially team-leader Dan, with support from Lindon, Paddy, and Earlier, Arthur were very professional and positive in the way they performed this job, sometime under challenging conditions.
As you know, recent health problems forced me to watch most of the proceeding from the side-lines, but my wife Mary Jane, who was stuck to do the job by herself, coordinated it perfectly, which she certainly could not have done without…"
---
"Thanks for the message.  A really smooth move – nothing broken!  A polite and efficient team. 
We would recommend you to anyone."
---
"We would highly recommend Sawyerr/Peters Removals for both packing and removals.  They took the stress out of moving house for us!  The packing service was excellent – everything handled with great care and labelled really well so that we could find things easily the other end!  
They were a great team – very friendly and helpful, and professional at all times.  They were extremely reliable. Should we ever need to move again, we will be in touch!
Many thanks."
---
"Just wanted to say that we couldn't have asked for more from the men who came to move us today, they did a great job and were a pleasure to be with.
There was only one hitch on my side, which maybe you could mention to them – the tea I gave them must have been terrible buy they didn't complain at all. I was using a new kettle and there was an awful taste from something from the kettle and we didn't discover till afterwards. So please do give them my apologies! Many thanks for your patience…"
---
"I just wanted to drop you a quick line to say thank you for all your help during our house move. The guys on the van worked really hard and were very helpful. You made everything easy and took lots of the stress out of moving.
So thank you again, we will be recommending you to all our friends that are moving house."
N & A Mansell
---
"Great Company always friendly and turn a daunting experience into an easy process have used them for many moves over the years and am moving again and will of course use Sawyerr Peters again"